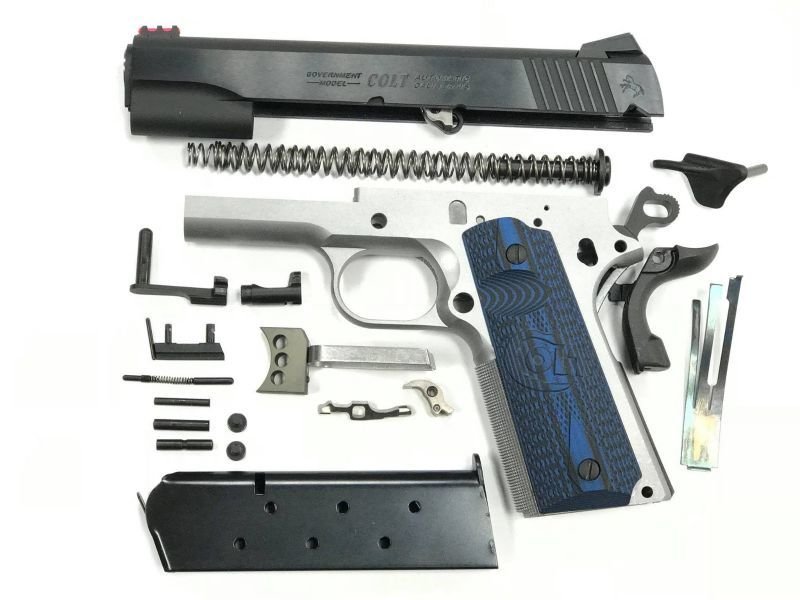 1911 80% Colt .45 ACP Competition Pistol
SKU COLT-45
Product Details
80% Colt MFG 1911 Complete 70 Series Single 45 Automatic Colt Pistol .45 ACP 5" 8+1 Blue G10 Grip Blued Carbon Steel

A true competition 1911 that's ready for the battle against the timer.
Custom G10 Grips, Upswept Beavertail Grip Safety, and Undercut Trigger Guard keep the pistol low in the hand for increased control.
Dual Recoil spring system reduces felt recoil while extending recoil spring life. National Match® Barrel and Novak Adjustable Fiber Optic Sights for precision shooting. Series 70 Firing System ensures a clean crisp trigger pull.
Specifications:
Action: Single Action Hammer Fired Semi-Auto

Barrel: 5"

Capacity: 8+1

Finish: Forged Carbon Steel

Sights: Novak Adjustable Fiber Optic

Stock: Steel Frame / G10 Checkered Blue Grips Grips

Magazine: 2 / 8 rd.

Weight: 36 oz.

Safety: Thumb Safety, Grip Safety

Grips: G10 Blue and Black Grips

Barrel Length: 5

Overall Length: 8.5

Features: National Match Barrel/ Dual Recoil Spring System
Warning:
This product is to be installed by a competent gunsmith.
No liability is expressed or implied for damage or injury which may result from installation or use of this product.
DISCLAIMER
"GLOCK" is a federally registered trademark of Glock, Inc. and is one of many trademarks owned by Glock, Inc.
DISCLAIMER:
At U.S. PATRIOT ARMORY, we by no means provide legal advice or legal counsel. Every builder needs to research their respective City, State and Federal laws in the area they are ordering from. We DO NOT provide gunsmithing advice. U.S. PATRIOT ARMORY is not responsible for improper builds, damage or injury due to user error.
Experienced Gunsmith installation and proper new round break in period recommended.
Save this product for later