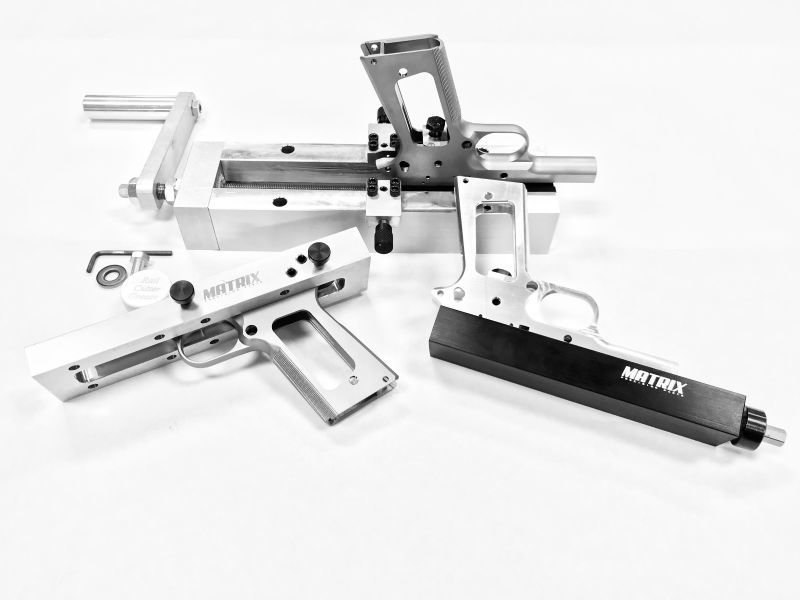 1911 Professional 80% Matrix Jig Kit
SKU 1911-PRO
Product Details
This kit comes with all the tools you need to complete your new stainless steel, steel or aluminum 1911 80% frames. With the best tools you can complete your 1911 80% frames like a professional.
* 1911 80% FRAME NOT INCLUDED *
This kit comes with:
Precision rail cutter

Decking Jig with steel drill inserts & drill bits

Sanding jig

Barrel seat cutter


Rail sanding stones comes with one each: 120 Grit, 220 Grit, 320 Grit, 400 Grit, 600 Grit, 800 Grit
Warning:
This product is to be installed by a competent gunsmith.
No liability is expressed or implied for damage or injury which may result from installation or use of this product.
DISCLAIMER
"GLOCK" is a federally registered trademark of Glock, Inc. and is one of many trademarks owned by Glock, Inc.
DISCLAIMER:
At U.S. PATRIOT ARMORY, we by no means provide legal advice or legal counsel. Every builder needs to research their respective City, State and Federal laws in the area they are ordering from. We DO NOT provide gunsmithing advice. U.S. PATRIOT ARMORY is not responsible for improper builds, damage or injury due to user error.
Experienced Gunsmith installation and proper new round break in period recommended.
Save this product for later