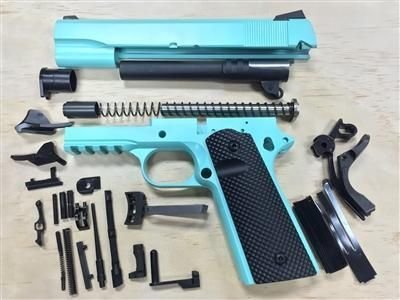 1911 Tactical 80% Builders Kit Pick Your Pistol Caliber - Color Tiffany Blue Cerakote
SKU 1911-TB
Product Details

1911 Tactical 80% Builders Kit Pick Your Pistol Caliber - Color Tiffany Blue Cerakote
Color Tiffany Blue Slide
Slide GI serration
Barrel length: 5 inch Grooves: 6
Completely machined parts
Novak dovetail rear sights cutvak dovetail
Novak dovetail front sight cut
Sights installed
Pick Your Caliber
Complete machined set of 1911 caliber small parts
1911 caliber small parts have a nice Parkerized Finished
Trigger Pull: 4-6 lbs
Length of twist: 1 in 6"
Weight Unloaded: 2.56 lbs Loaded: 2.82 lbs
Comes with Stealth Arms Tactical 1911 Government 70 Series Frame Tiffany Blue
Kit Will Come With New Upgraded Hogue Extreme G10 Black 1911 Grips
1911 Frames Comes Tiffany Blue
Magazine not included
Warning:
This product is to be installed by a competent gunsmith.
No liability is expressed or implied for damage or injury which may result from installation or use of this product.
At U.S. PATRIOT ARMORY, we by no means provide legal advice or legal counsel. Every builder needs to research their respective City, State and Federal laws in the area they are ordering from. We DO NOT provide gunsmithing advice. U.S. PATRIOT ARMORY is not responsible for improper builds, damage or injury due to user error.
Experienced Gunsmith installation and proper new round break in period recommended.
Save this product for later