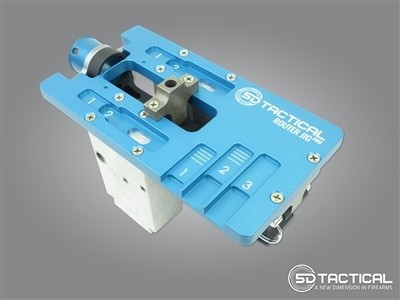 AR-15/AR-9 Router Jig Pro - Universal 80% Lower Receiver Jig
SKU 5D-PRO-AR15-AR-9-JIG
Product Details
The AR-15/AR-9 Router Jig PRO by 5D Tactical is the fastest, easiest and most durable 80% lower jig ever created. The quality of finished results possible with the Router Jig PRO cannot be attained by any other 80% lower jig. If you're looking for the best, YOU FOUND IT.
All you will need from us to finish an AR-15 80% lower at home is the AR-15 Router Jig, our ReadyMILL, and some drilling tools. Our ReadyMILL and the necessary drilling tools are available as a prepackaged kit in our PRO Jig Tool Kit Need an 80% lower? We've got those too.
This AR-15/AR-9 Router Jig PRO is guaranteed universal for all billet, forged and polymer AR-15 or AR-9 80% Lowers. The Router Jig PRO can be purchased as AR-15/AR-9 Only, or as a Multiplatform Jig to also complete .308 and AR-10 80% Lowers. You may select the option below to upgrade your jig to Multiplatform, or come back later to upgrade with our .308/AR-10 Pro Jig Conversion Kit.
Fast and Easy - The AR-15/AR-9 Router PRO Jig by 5D Tactical is the fastest and easiest to use AR-15/AR-9 80% Lower Jig ever created. In testing, we were able to finish an AR-15 80% lower in under 15 minutes, including jig assembly.
Insanely Durable - The first premium 80% lower jig to offer ultra-hardened wear surfaces. The drilling guide is constructed of solid heat-treated, hardened steel. The side plate guide holes are lined with 1.5 inch thick ultra-hardened steel drill bushings. Good luck ever wearing this jig out!
Convertible to Muliplatform - Another industry-first brought to you by the innovative minds at 5D Tactical. The AR-15/AR-9 Router Jig Pro can be inexpensively upgraded to Multiplatform for .308/AR-10 compatibility, either now or in the future. No other 80% lower jig on the planet is advanced enough to offer this feature. Buying 2 complete jigs is a thing of the past.
Optimized For Use With a Router - Our Universal Router Adapter in conjunction with the included guide pins utilize twin template cavities to trace the outline of the fire control group pocket ensuring the end mill never touches the jig.
Truly Universal 80% AR-15 Lower Receiver Compatibility -Guaranteed. An 80% lower mounts in our jig by the same locations used to mount an upper receiver. Universal for any AR-15 or AR-9 80% lower receiver. Optimized for any material; 6061-T6, 7075-T6, Polymer, etc.
Centered and Aligned Finished Features - Mounting an 80% lower by the front takedown, and end plate of the buffer tube extension ensures properly aligned finished features.
The ReadyMILL - The world's first Router Ready End Mill. The ReadyMILL is a combination end mill and thermal fit tool holder, which allowed us to reduce the effective end mill length to only 1.5 inches! The ReadyMILL threads directly to your router, eliminating the possibility of the end mill slipping out of the collet - a common fail point with all other 80% lower jigs. The tool holder portion of the ReadyMILL is heated prior to end mill insertion, and then rapidly cooled. This means the end mill will never come out during milling. However, the end mill is replaceable by the end user.
1.5" No-Touch Side Plates - The sheer thickness of the side plates means perfect selector and pin holes every time, even with a hand drill! These massively thick side plates do not touch the lower anywhere, further guaranteeing universal AR-15/AR-9 80% lower fitment, while preventing accidental marring to the lower.
Less Drilling - Drill only 1 hole prior to beginning the milling process
3-Step Process - Each depth setting and milling step corresponds to a simple 1-2-3 process
High-Visibility Milling - External milling templates provide open area above the lower for full visibility during milling and easy chip removal
Super Fast Assembly - Only 14 Phillips screws are needed to assemble the jig, and it never needs to be completely disassembled
Quick Release Pin - Once the jig has been assembled, lowers can be installed and removed in seconds by only loosening 2 Phillips screws and removing 1 pin.
Integrated Depth Gauge - The depth gauge is integrated to the top plate to keep both hands free for setting drilling and milling depths. High visibility laser marked hash marks
Patented - United States Patent #9,982,958. Other Patents Pending
Description:

Fast and Easy: Even novice users can expect to be able to finish a lower in 45 minutes. Advanced users can finish a lower in as little as 25 minutes! The AR-15/AR-9 Router Jig PRO is by far the fastest and easiest AR-15 router jig on the market, bar none!
Universal Compatibility: The Router Jig PRO is truly universal for all AR-15 and AR-9 80% Lower Receivers. A lower receiver is mounted and located in the 80% lower jig kit by features which are standardized and common to all AR-15 80% Lowers; the front takedown and buffer support. By using these known standardized features to mount the lower, and in conjunction with our No-Touch Side Plates, we can guarantee universal fitment for any AR-15 or AR-9 80% lower receiver regardless of exterior dimensions. Many other 80% lower jig designs make use of non-standardized features or rely upon clamping the lower into the jig by the sides. The result of other mounting methods is non-universal fitment and the opportunity for out of spec finishes. By mounting the lower receiver in our jig by standardized features, an additional benefit is the most accurate finished product possible. In order to guarantee proper fitment and operation, all finished features must be aligned, centered and parallel with the components for which they are designed to receive, in this case the upper receiver and lower parts kit.
Optimized For Router Use: By far the most popular method for completing 80% lower receivers at home is by use of a handheld router. This is for good reason, of course, because it's the most cost-effective and readily available method, and finished results can rival those of an expensive CNC machine or mini-mill. Our Universal Router Adapter addresses certain drawbacks previously associated with using a woodworking router to mill aluminum. First, for the main milling operation, other router jigs rely upon "tracing" an internal FCG pocket shaped template by running the end mill shank against a template surface. This method generates excessive heat, excessive wear on the template surface its self, and the end mill is not supported in all directions for the milling operation. Our Universal Router Adapter incorporates two main features which eliminate any drawbacks to utilizing a router for milling aluminum. First, the Adapter houses a massive high-speed bearing which assists in centering the Adapter to the router, and supports the ReadyMILL in all directions at all times, virtually eliminating tool chatter during the entire milling operation. Second, the Adapter accepts 3 sets of Guide Pins, corresponding with each of the 3-step milling process, which are utilized to trace two external cavities. The external guide cavities with Guide Pins completely eliminate the need for an internal template coming in contact with the end mill.
The 5D Tactical ReadyMILL™
Our Patent Pending ReadyMILL is an absolute game changer in the realm of router based 80% lower receiver milling. We have always identified the end mill as a weak link in many router based jig designs, and addressed the drawbacks with a fresh outlook. Two of the limiting factors related to the end mill tool are the router collet size, and necessary minimum length for the application. Other router based jigs utilize an unsupported, 4" long, 1/4" diameter end mill which cannot produce high quality finished results. An end mill with this length to diameter ratio is not nearly rigid enough. The effect of this is unwanted tool chatter, frequent tool breakage, unsettling feedback, slow milling operations, and poor finish quality. Also, it's very common for the end mill to slip out of the router collet during use, creating a potentially dangerous situation for the user and/or ruining the lower!
To solve this, we took what's considered the best in CNC milling technology, and developed the world's first thermal fit tool holder for a router. The tool holder portion of the ReadyMILL threads directly to the router, and will never come loose. As a matter of fact, it only gets tighter during use. Next, we create a thermal fit between the tool holder and end mill, meaning the end mill cannot be pulled out of the tool holder. With this system, the required length of the end mill is only 1.5 inches and we can use a 5/16" diameter end mill because we are not limited by the collet size of the router! The ReadyMILL end mills is 2.25 inches shorter than any end mill in use with other 80% lower jigs. What this all means, is that our ReadyMILL is exponentially stronger, more rigid and safer than any other 80% lower end mill on the market. The ReadyMILL virtually eliminates tool chatter and contributes toward producing mirror-like finished results.
Centered and Parallel Features: Using the buffer support and front takedown to mount and locate the lower receiver in the AR-15 router jig guarantees the finished fire control group pocket, trigger slot, safety selector, and trigger/hammer pins will be perfectly located and within tolerance. This ensures proper fitment and trouble free operation once the lower has been completed and assembled to an upper. As the sides of the AR-15 lower receiver are not controlled or consistent, using them as a means of mounting the lower into a jig can result in a misaligned fire control group pocket and trigger slot, misaligned safety selector holes, or misaligned hammer and trigger pin holes.
1.5" Thick No-Touch Side Plates: Our No-Touch Side Plates, which were first pioneered by 5D Tactical, provide ample clearance on either side of the lower receiver to accommodate for even the most wildly out of spec designer brand lower receivers with oversized exterior features. This no-touch approach prevents accidental damage or marring to the side of the lower receiver during assembly, use, and disassembly. As an added bonus, since the the jig only contacts the jig by its mounting points, the lower can be mounted or removed quickly and without removing the side plates. The Jig can even be switched between platforms without removing the side plates!
Less Drilling: Advancements in The Router Jig's design allowed us to reduce the drilling portion of finishing the FCG pocket and trigger slot to only 1 hole! The integration of our bearing supported ReadyMILL makes the milling portion faster, easier and safer than ever before. Removing the bulk of material by drilling is no longer necessary because the milling portion is so fast and easy. Our end mill design and bearing support system allow the user to remove material safely at a much faster rate than with other jigs. Other jigs rely upon the drilling portion to remove the bulk of material, which is extremely time consuming and labor-intensive. Beyond that, the nearly 4" long end mills used with other 80% lower jigs are not nearly as fast and effective in removing aluminum. In fact, with some 7075-T6 forged 80% lower receivers, milling with the inadequate cutting tools offered with other jigs can be downright frustrating and painfully tedious. As an added bonus beyond the time savings, our extensive testing revealed that optimal finish quality is achieved when fewer holes are drilled.
High-Visibility Milling: The 5D Tactical Universal 80% Lower Receiver Jigs utilize twin guide cavities, which are incorporated into the guide plate and therefore do not rely upon using the end mill shank for tracing an internal template. The result is a wide-open viewing area directly above the FCG pocket. With the Jig oriented in a manner where the buffer support is closest to the user, full visibility of milling is possible for all of the process. Additionally, the router support plate's viewing port is large enough to accommodate even a full-size wet/dry vacuum attachment for fast aluminum chip removal. Chips will immediately clear from the fire control group pocket as the user mills, and any other chips left behind can be easily removed with a vacuum. Keeping the fire control group pocket clear of aluminum chips during the milling operation is paramount in ensuring good finish quality. Other 80% lower jigs force the user to partially disassemble the jig to remove the chips or offer no effective way for keeping the FCG pocket clean.
Super Fast Assembly: The Router Jig's professionally engineered design minimizes the number of total components and screws necessary for assembly. What's more, once the Jig has been assembled, it never needs to be disassembled! Only 2 screws and one quick-release pin need to be removed to swap a lower once the jig it has been assembled the first time. Perfect for saving a ton of time during build parties or group purchases!
Integrated Depth Gauge: The Router Jig's 1-2-3 finishing process is made even easier by the integrated end mill depth gauge that's numbered and built right into the top guide plate. This design allows the user to keep both hands free to adjust the router depth, and the laser marked hash marks increase visibility while adjusting depth settings. Not to mention, having the depth gauge integrated to the guide plate eliminates one tool that can be misplaced while finishing an 80% lower! Now where is my 10mm socket...?
Save this product for later