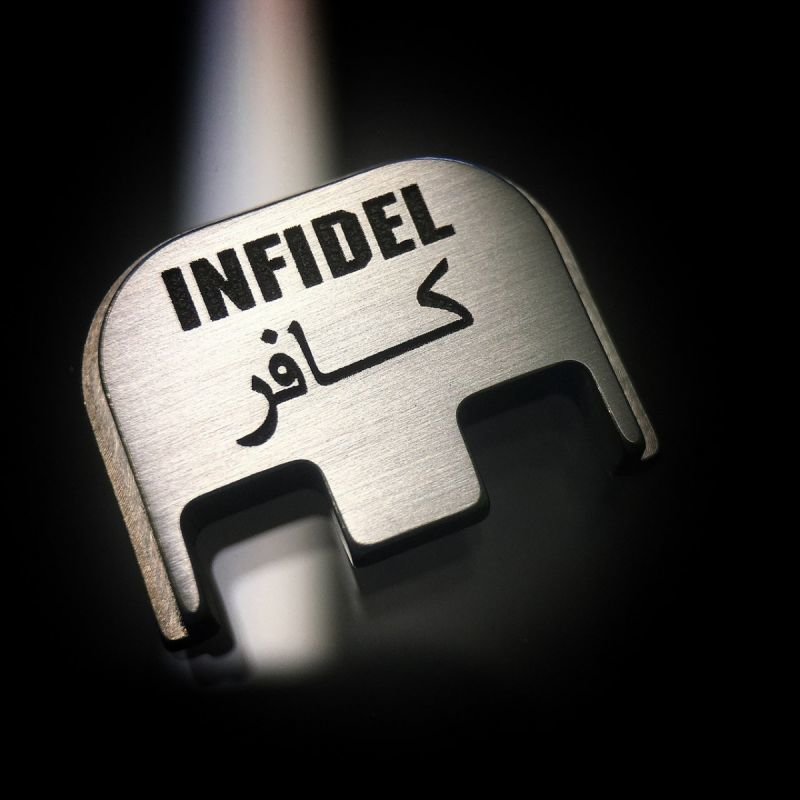 Infidel - Titanium Back Plate
SKU TBP-INF
Product Details
The Titanium Infidel Back Plates are a unique upgrade to your boring factory slide plate! All titanium plates are made from grade 2 titanium and are extremely durable, lightweight and corrosion resistant. All of our designs have been laser engraved with our 50W Fiber Laser and are made right here in the U.S.A.!
*Standard - Fits ALL Glock Models (17, 17L, 19, 20, 21, 22, 23, 24, 25, 26, 27, 28, 29, 30, 30sf, 31, 32, 33, 34, 35, 36, 37, 38, 39, 40, 41)
Fits ALL Generations (1, 2, 3, 4, 5)
*G43 - Fits ONLY Glock 43
*Blasted - This finish is treated by blasting with micro fine glass beads and creates a subdued finish (which is Classy, not flashy).
*Rugged - This finish is stonewashed and has a worn appearance to it giving the plate a "rugged" look.
*Brushed - This finish is sanded by hand to give it a clean and almost polished look.
*Gold - This finish is heat anodized Gold by our 50W Tactical Arms Mark Fiber Laser from Control Laser Corp.
*Flame Anodized - This finish is heated with a blow torch to create colors. Please note that colors will vary and no two plates will look exactly alike.
Save this product for later