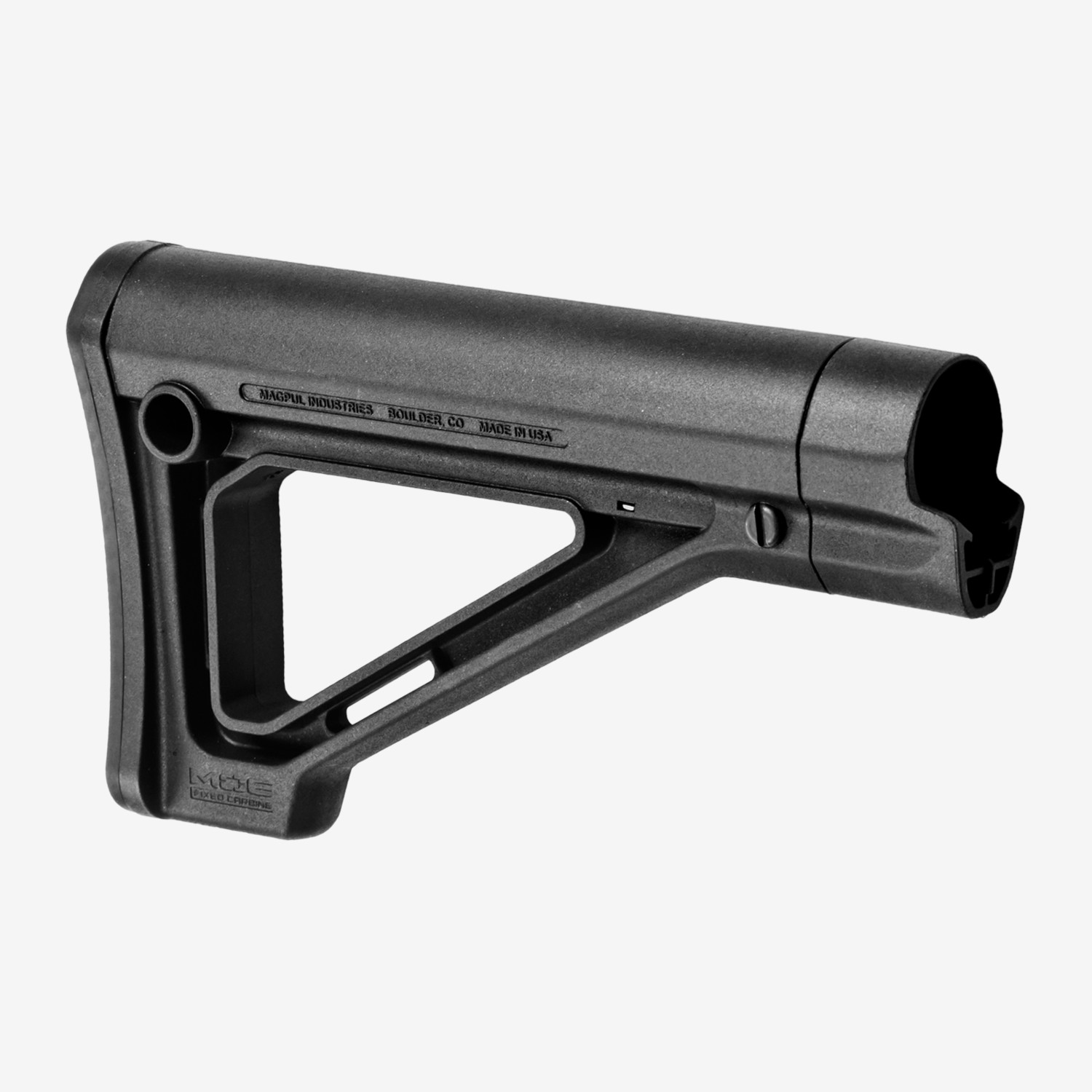 MOE� Fixed Carbine Stock "� Commercial-Spec
SKU MAG481
Product Details
MOE® Fixed Carbine Stock – Commercial-Spec
Product Details
The MOE Fixed Carbine Stock – Commercial-Spec Model (Magpul Original Equipment) provides an inexpensive, fixed, non-collapsing stock option for commercial-spec size carbine-length buffer tubes.
The MOE Fixed Carbine Stock has a slim profile, improved cheek weld, and multiple sling attachment options, and is compatible with ASAP® Plates and PRS® Extended Rubber Butt-Pad. Installation is non-armorer and does not require the castle nut or lock plate to be removed.
Made in U.S.A.
FEATURES
Fixed length for commercial-spec sized carbine receiver extension tubes (not included) from manufacturers such as Bushmaster, DPMS, and others (please see the note below)
~12.2" Length of Pull
Integrated 1.25" sling loops
Compatible with ASAP Plate & PRS Extended Rubber Butt-Pad
Durable polymer construction
Available left/right side push-button QD Sling Mount Kits (not included)
NOTE: There are two basic sizes of M4 Carbine receiver extensions (buffer tubes): mil-spec and commercial-spec. If you have a mil-spec size extension on your rifle.
Specs
SPECIFICATIONS*
MOE Fixed Carbine Stock, Commercial-Spec
Weight: 9.5 oz.
Weight, w/receiver extension: 14.8 oz.
Length, max: 8.8 in.
LOP, M4: ~12.2 in.

* Specifications based on extended-length (slant-back) commercial-spec carbine receiver extension and may vary depending on tube manufacturer.
Save this product for later