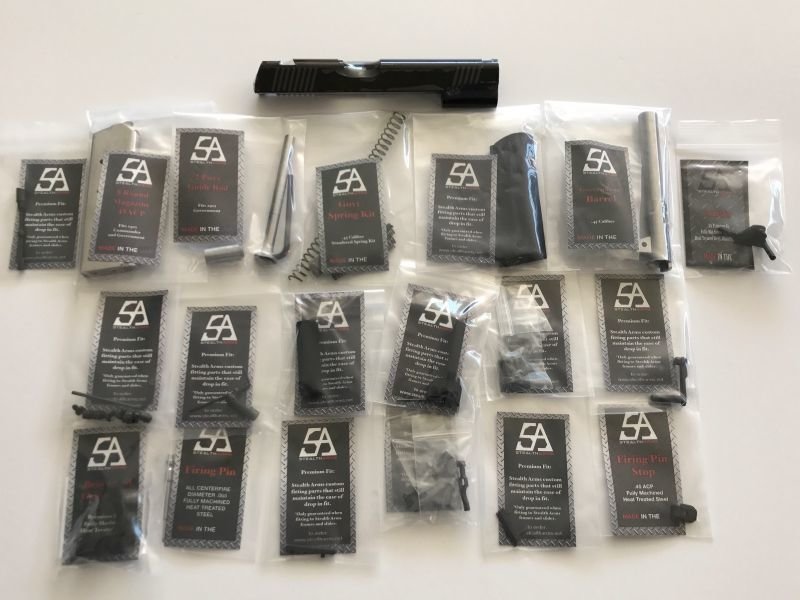 Stealth Arms - 1911 .45 ACP Government Model Series 70 Build Kit
SKU 1911-02
Product Details
Every part needed to complete an 80% 1911 frame (minus the frame). These parts were precisely designed and machined to fit perfectly with Stealth Arms' frames. Only minor fitting is required with the grip and thumb safeties. All fitting can be done with a simple hand file. Directions are included with the two parts to help with the very easy fitting process. They will work with other non Stealth frames but more fitting may be required. All of Stealth Arms' parts are fully machined from solid chromoly steel or 7075 aluminum.
Includes:
Grips

Grip Bushings and Screws

11 (all) Piece Pin Set

7 (all) Piece Spring Set

Mainspring Housing

Grip Safety

Thumb Safety

Slide Stop

Trigger (adjustable)

Sear

Disconnector

Hammer

Hammer Strut

Mag Catch Assembly

Ejector

Slide

Barrel, Barrel bushing, Link and Pin

Recoil Guide

Extractor

Firing Pin Stop

Novak Fixed Sights

8 Round Magazine
**Frame NOT Included**
Warning:
This product is to be installed by a competent gunsmith.
No liability is expressed or implied for damage or injury which may result from installation or use of this product.
DISCLAIMER
"GLOCK" is a federally registered trademark of Glock, Inc. and is one of many trademarks owned by Glock, Inc.
DISCLAIMER:
At U.S. PATRIOT ARMORY, we by no means provide legal advice or legal counsel. Every builder needs to research their respective City, State and Federal laws in the area they are ordering from. We DO NOT provide gunsmithing advice. U.S. PATRIOT ARMORY is not responsible for improper builds, damage or injury due to user error.
Experienced Gunsmith installation and proper new round break in period recommended.
Save this product for later